---
Many businesses use certain terms to describe actions they take, but sometimes, the customer has no idea what you are talking about. To fix this, you can add a glossary plugin to WordPress.
There are several ways to go about this from adding a dedicated glossary page that visitors can use to look up terms, or you could set up tooltips to allow visitors to hover over the term and see the meaning.
And while most people imagine glossaries and encyclopedias as walls of text, that's not the case anymore. Most plugins actually support multimedia files like images, video, and audio to appear in a tooltip.
Today, I will share the best glossary plugins available in WordPress.
What Kind of WordPress Sites Need A Glossary Plugin?
There's not a specific type of website that needs a glossary plugin in WordPress. Instead, it's more about trying to make things easy for visitors. For instance, imagine a site dedicated to mathematics.
You may end up using terms that the reader may not understand, thus, providing a definition can be very helpful.
Of course, this isn't just for academics. Think about something like the Harry Potter universe. All of the spells have names that are not indicative of what they do. Building a directory could be beneficial to the new reader.
The same could be said about locations, magical creatures, famous wizards, and just about anything else a fictional universe has to offer.
This logic applies to just about any site that relies on using certain terms that the average visitor may not know. Another great use is for business terms of procedures your company may carry out.
This can be a great way to appear professional and also make it easy for visitors to understand what's going on or what they can expect.
1. WordPress Tooltips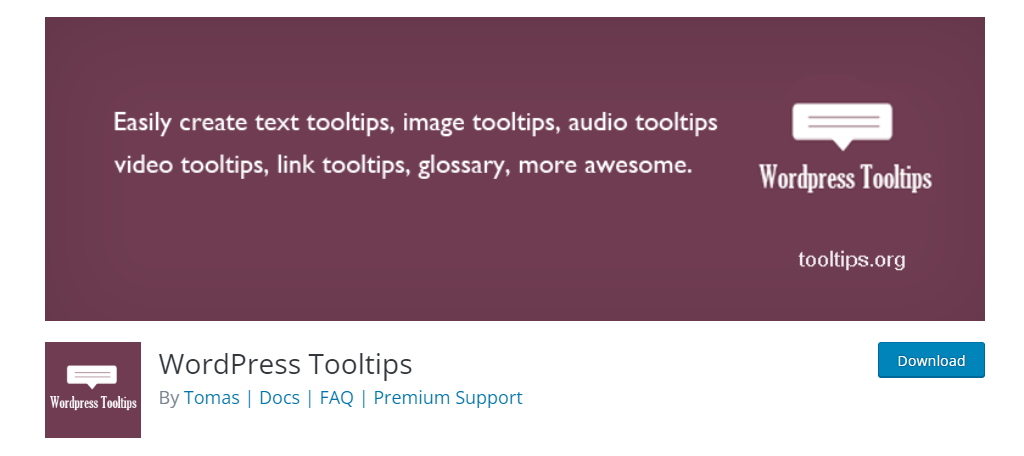 One of the best ways to add tooltips in WordPress is to use the aptly named WordPress Tooltips plugin. It allows you to add tooltips to just about anything from text to images and everything in between.
You are not just limited to text in the tooltip, though. For instance, you could also add images or videos to them.
You might think you'll have to manually create every tooltip, but that's not the case. You can create a tooltip for any term and it will be applied to your entire site once you activate it.
You'll have some options to customize where it appears on your website.
You can also choose to only display the tooltip on the first term that appears in a post or page. Otherwise, it might become more annoying than helpful.
Benefits of Using WordPress Tooltips
Manage all tooltips from a central location
You can add a glossary anywhere with a shortcode
Customize how the tooltips appear
Tooltips work on forms from most major plugins
Add animations to the tooltips
2. Glossary
If you are looking for a WordPress dictionary tool, the Glossary plugin is the perfect solution. It allows you to enter glossary terms into the plugin and display them where necessary.
You can even create a dedicated glossary page without much trouble.
It gives you a variety of management tools to help you control where the tooltips appear. You can enable them for only pages or posts if you wish, or disable them on specific pages like your Home page.
All of this is done through a series of toggle switches that are easy to use. You can even make sure a term only appears on a given page or post to reduce redundancy. And it supports all languages, so, you won't run into any limitations.
Benefits of Using Glossary
Select from multiple tooltip templates
Group your terms by category for better organization
Match case-sensitive terms
Dedicated plugin support available with the Pro version
Choose to disable Glossary on any post
3. Tooltip Glossary for WordPress | Knowledge Base Plugin
Do you want to build a knowledge base for your website? If so, try purchasing the Tooltip Glossary for WordPress plugin. It's a premium plugin that can help improve your website's SEO and improve readability.
You can even use it to connect with both Wikipedia and Merriam-Webster to get the latest terms.
As you might expect from a premium plugin, there are a lot of customization options available.
You'll be able to select from 18 index templates. This means you won't have any problems finding something that fits in with the rest of your site.
There are multiple plans available including an eCommerce option and you'll be able to use it across multiple websites.
Another feature to note is being able to import terms using .csv files, which is perfect for multiple sites.
Benefits of Using Tooltip Glossary for WordPress
Display related terms at the bottom of the page
Add abbreviations to the term glossary
Add audio files in your tooltips
Make tooltips sharable on social media platforms
Users can double-click on any word to see a tooltip from Wikipedia
4. WP Glossary – Encyclopedia / Lexicon / Knowledge Base / Wiki / Dictionary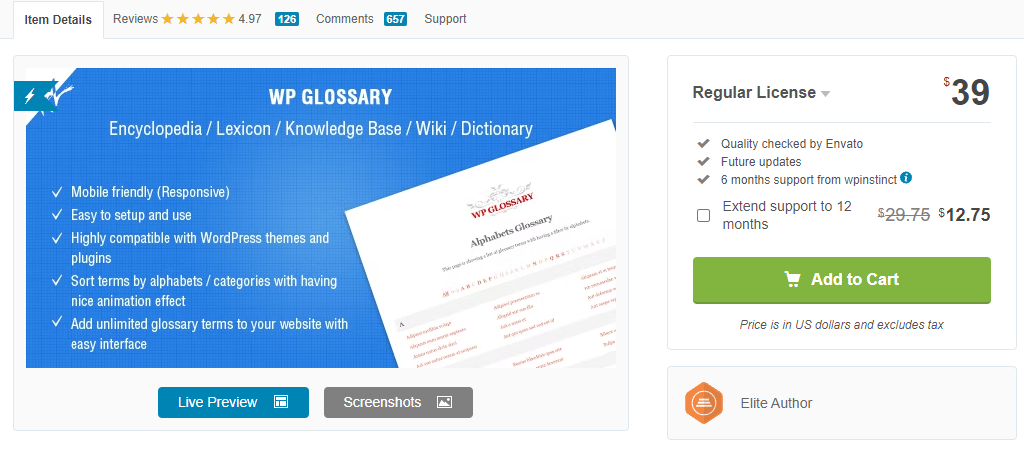 If you're looking for a plugin to handle all of your WordPress terminologies, look no further than the WP Glossary plugin. It's a feature-rich premium plugin that has everything you need to build a glossary in WordPress.
Even though there are a lot of features, you won't have any trouble using them as everything is streamlined.
You'll have full control over where the glossary appears on your website, as well as a variety of customization options. This even includes a selection of animations you can use to spice up your glossary terms.
You can also add tooltips to terms throughout your website. Similar to your glossary entries, you'll have a range of customization options to choose from including unique animations.
Benefits of Using WP Glossary
Gives you the option to disable tooltips on touchscreen devices
Support for custom post types
Choose between displaying the full definition or a shorter one for tooltips
Limit the number of words in a tooltip
Customize the font type and color at anytime
5. Name Directory
Some directories don't focus on terms or definitions, instead, they focus on people. That's where the Name Directory plugin comes in. But be aware, you can still use it for traditional terms and it will do just fine.
You can build a full glossary page and sort them alphabetically automatically.
It also supports setting up multiple glossaries. For example, you can create one for people, and a separate one for terms. To place each glossary, you'll just need to paste the appropriate shortcode into the post or page.
You'll be able to control every aspect of the glossary including limiting the number of words in each entry. After all, shorter definitions are often more helpful than longer ones when it comes to general understanding.
Benefits of Using Name Directory
Choose the number of columns to display
Create subjects for each directory (people, terms, fish, etc.)
Send user searches to the glossary page
Supports multilingual sites
Export and import terms to other sites
6. Encyclopedia / Glossary / Wiki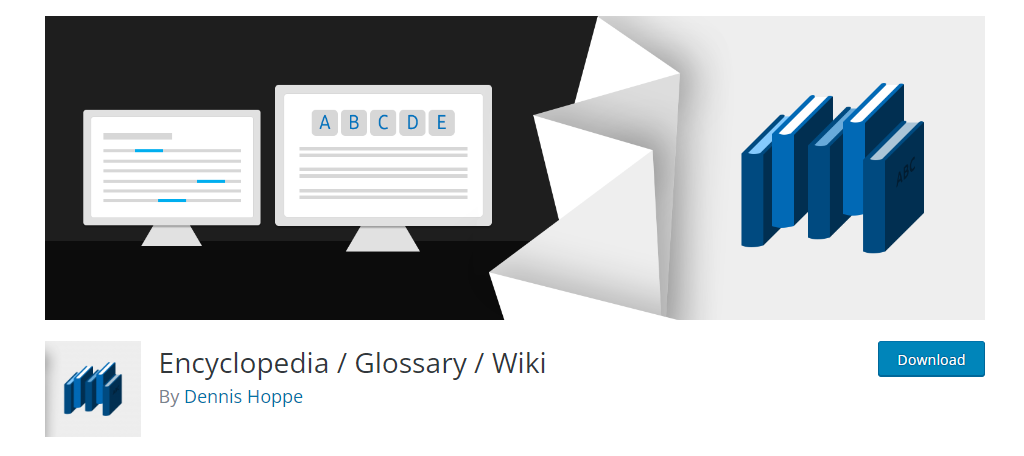 Regardless of if you are trying to build an encyclopedia, glossary, wiki, or even a knowledge base, the Encyclopedia plugin will have you covered. It can help you build any of these without much trouble.
It'll do this by helping you group terms together by assigning tags and categories.
One of the best aspects of this plugin is the clean interface. Everything is very intuitive and fits together nicely, thus, it's perfect for beginners to use. And you have a ton of options to pick from.
For instance, you are not just limited to text. Instead, you can add audio, images, and video, which opens up an almost unlimited number of possibilities. Thus, it's a robust solution that any website owner should consider using.
Benefits of Using Encyclopedia
Works well in a multisite environment
Does not include any plugin branding
Supports WPML for multilingual support
Offers revision support for every entry
Compatible with the WordPress Importer plugin
FAQ
Is It Better To Have One or Multiple Glossaries?
Many of the plugins on this list provide support for multiple glossaries, which begs the question, should you use them?
In terms of searchability, breaking up large galleries into smaller but more relevant ones is far more effective.
For example, let's say your website covers fictional universes. Would it make sense to have a single glossary that contained Harry Potter and the MCU, or have a dedicated one for each?
You probably didn't have to think about that to realize that separate ones are better. Not only does this help improve searchability and show other content the searcher might be interested in, but it's better for the user.
For instance, it would be pretty annoying if you were looking up Harry Potter lore and then you kept running into things from the MCU. Or vice versa.
It simply makes a lot of sense to split these things up.
Should A Glossary Include Multimedia Content?
How users choose to consume information is largely up to preference. Some prefer reading, others like audio or video.
And while you might want to accommodate everyone's preference, you may also want to consider what is best for your site. In terms of SEO, the text is recommended as it will help you rank higher.
Video is a great option in general as users largely prefer video content. However, not everyone wants video, and it can feel a bit out of place on some sites. On the other hand, it could also be more fitting depending on the niche and topic of the content.
Audio won't really do you any favors. Both text and video can appear on Google, but audio files do not. But if you're trying to help visitors properly pronounce terms, audio glossaries may prove useful.
Overall, I would recommend using text in your glossary in addition to any multimedia files you feel are necessary.
Can A Glossary Plugin Improve SEO in WordPress?
Absolutely!
Think about it; how often do you search for the meaning behind a certain term, a location, or even a specific person (fiction and non-fiction)? If you're like everyone else, the answer is a loud yes.
Having a clear definition that can pop up and appear in the frequently asked questions section is a huge boon to any website.
In fact, that's precisely why most websites create a dedicated FAQ section. It allows them to target this part of Google and dramatically increase traffic. So, yes, adding a glossary is a great way to improve SEO.
Does A Glossary Replace A FAQ Section?
You may be wondering if a glossary is a replacement for a dedicated FAQ section. While it can work well, ultimately, a glossary page is not a replacement. And the FAQ section is an invaluable tool for any website.
Many users often have the same question, and having a section dedicated to these questions is great.
It can reduce the number of questions your staff may receive and even help you rank better. After all, these are usually questions people search for on Google, thus, they can help you bring in new customers.
In recent years, FAQs have become the cornerstone of most support teams. Thus, creating one doesn't just benefit your customers, it also helps improve your staff's understanding of the problems your customers may be facing.
Start Building Your WordPress Glossary Today
As you can see, there are several amazing plugins to help build a glossary in WordPress. These can be beneficial on any website but work really well on more complex terms that the average reader may be unaware of.
Many websites that specialize in a specific topic often have a dedicated glossary page to help bring everything together. It can also help you list relevant articles to any visitors viewing that entry.
Just make sure to not go overboard. It can be incredibly annoying to see a post covered with tooltips. Sometimes less really is more.
What's your favorite glossary plugin for WordPress? Why did you add a glossary to WordPress?