---
Being a pro gamer, you must have played or must be playing games like Minecraft, Pub-g, Call of Duty, and more. These games have laid down their base by being the audience's favorite and enn number of downloads and players over it. 
Just like that, Minecraft is noted for its large community, which has over 141 million players. You may play Minecraft with your pals in a variety of ways, but one of the easiest and most exciting ways to play is on an online Minecraft server. 
Many people play on one of the numerous Minecraft online servers regularly.  As a result, you're one of those Minecraft gamers who want to take their game to the next level by hosting it on a cheap, dependable, and fast server with users' favorite mods.
Some of these servers are hosted on the players' own computers, while solid third-party hosts support others. 
As a result, there are many Minecraft server hosting options available in the market for you to employ to take Minecraft house and adventures online.
Hence, we're here to assist you in finding the best possible Free Minecraft Server hosting provider that we have analyzed and tested so that they give you the best experience in Best Free Minecraft Server Hosting. 
Minimum Minecraft Server Hosting Requirements
To run anything on your server, you need some specifications and particular things to keep in mind before buying or opting for server hosting.
When it comes to Minecraft Server Hosting, the minimum requirements of it, according to the players, are:
The 3+ Best Minecraft Server Hosting 2022
Here's our pick of the Best performing Minecraft Server Hosting providers. These providers are tested and tried so that you can trust them with your needs and fulfillment of them. 
Server Pro

Multi-Admin
27/7 Support
Mods

Scalacube

Mods
SSD Storage
24/7 Support

Aternos

Customizable
SSD Storage
Auto Backups

Skynode

27/7 Support
Cloud Backup
SSD Storage
#1. Server Pro Review
Server Pro is a game hosting company from Sweden. It provides free as well as premium (freemium) services on VPS series services and Ubuntu 22.04 root shell. 
With 9 global data centers worldwide, it reaches a worldwide audience. Two editions of Minecraft are compatible with Server Pro: Minecraft java Edition and Minecraft Bedrock Edition. All you have to do is follow 4 simple steps to get on hosting Minecraft. These steps involve:
Server Pro also gives an option to choose your own custom hostname. Just one thing we got stuck on while testing Server Pro the answers from the support aren't satisfactory.
They are either copied and pasted or for different questions, they answer the same as earlier. 
Overall, we checked the review of the audience on Server Pro, and after getting our hands on it, we could observe that Server Pro is a user-friendly software that people prefer and are satisfied with its services. 
Server Pro Best Features
These features were listed on the website of Server Pro. It sure impressed us; let's see what you have to say: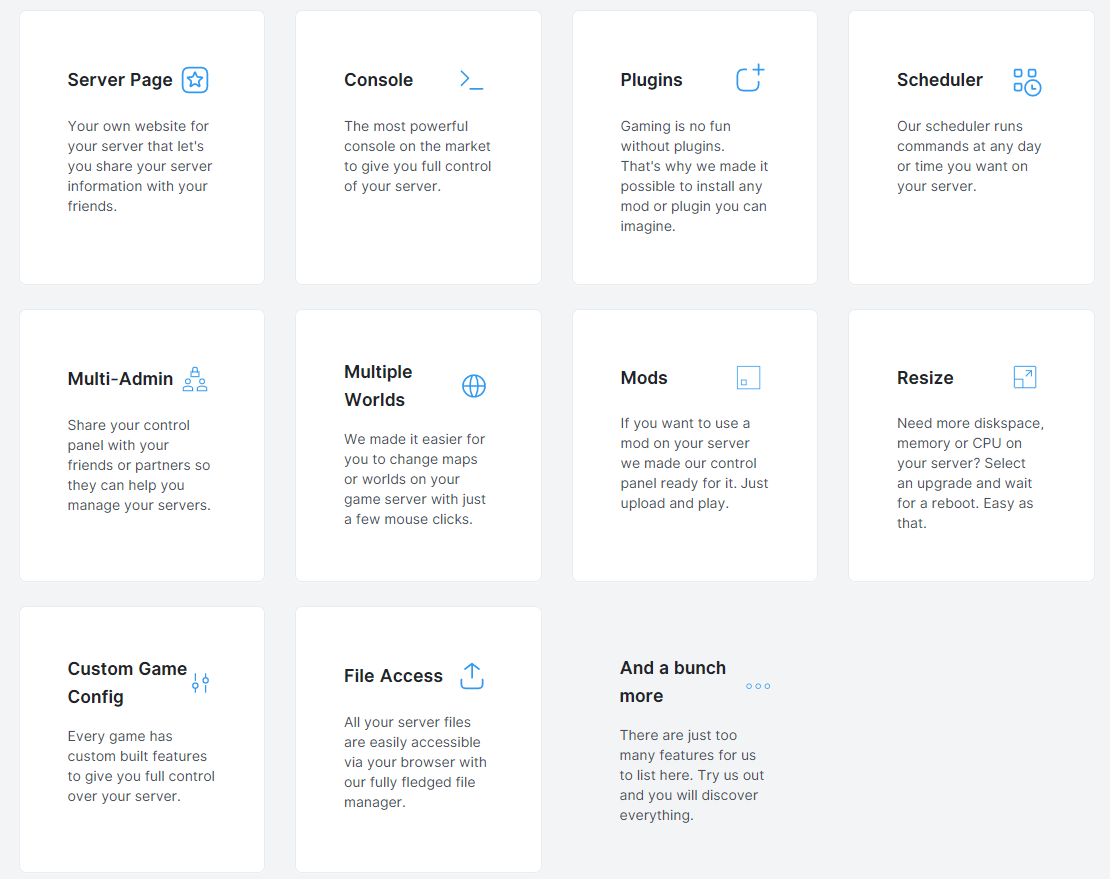 Free Minecraft Resources:
#2. Scalacube Review
With the full functionality of a paid server, Scalacube is free of cost and 24*7 available for Minecraft Server Hosting users.
Scalacube provides hostings for other games like Venom Server Hosting, Rust Server Hosting, etc.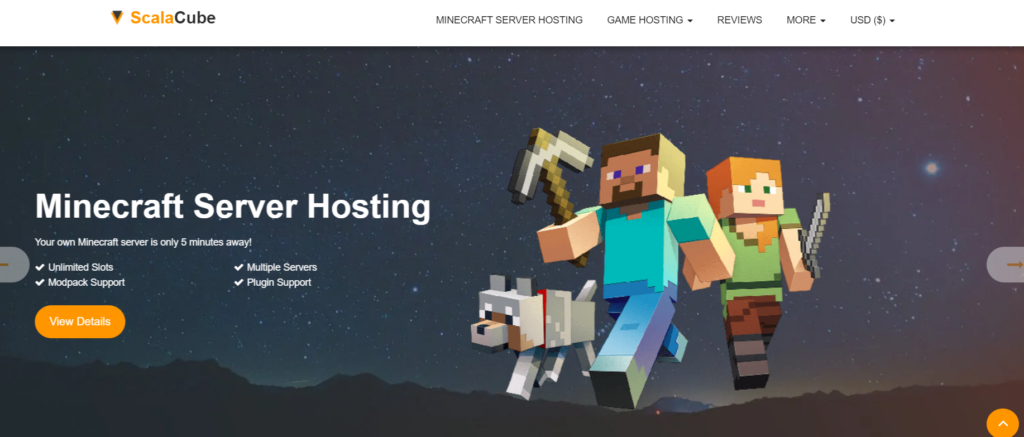 As for Minecraft, it offers Minecraft Server Hosting and Minecraft PE Server Hosting. They guarantee reliable internet connection and low [ing with Ubuntu 20.04 Operating system used for all the servers. 
It supports almost all types of mods and plugins while imparting low ping and failure-free services! 
It's also a freemium service which means you can start for free, work on it, and when the time of upgradation comes, you can opt for its premium plans.
Just make sure you are sure about it because they do not offer refunds because they are already giving you totally free services to test them as much as you want before stepping ahead. 
Scalacube Best Features
Scalacube's Minecraft Server Hosting best features:

Free Minecraft Resources:
#3. Aternos Review
Aternos is a free Minecraft Server. The company is based totally on Minecraft server hosting. How will it work for you, and how can you get it FOR FREE! 
Aternos provides a free personal Minecraft server to its users to play with their friends at any time of day or night.

With over 1 million players playing on Alteros servers every day, they are compatible with Bedrock as well as Java Minecraft editions. 
Aternos has designed their servers with expertise and intelligence so that from a newbie who has started to play on the servers or the ones who need advanced features to play. They made it easy to use without taking advantage of your time or money. 
Make sure that mod and plugins are also limited, RAM is capped at 1.7GB by Aternos, so if you do not have problems with these things, you can surely move ahead with them.
Aternos Best Features
Best Features of Minecraft Server Hosting by Aternos: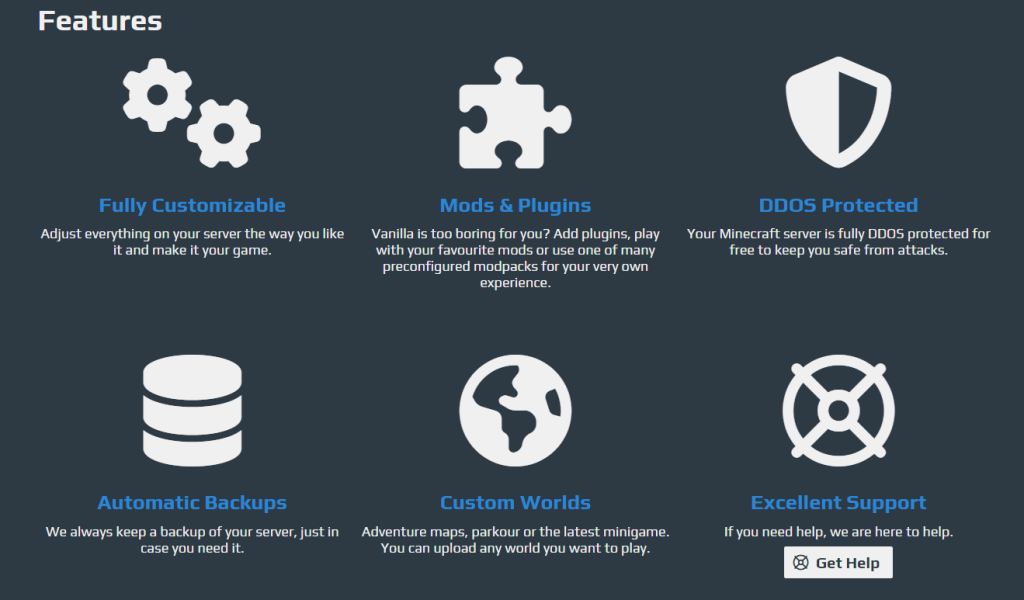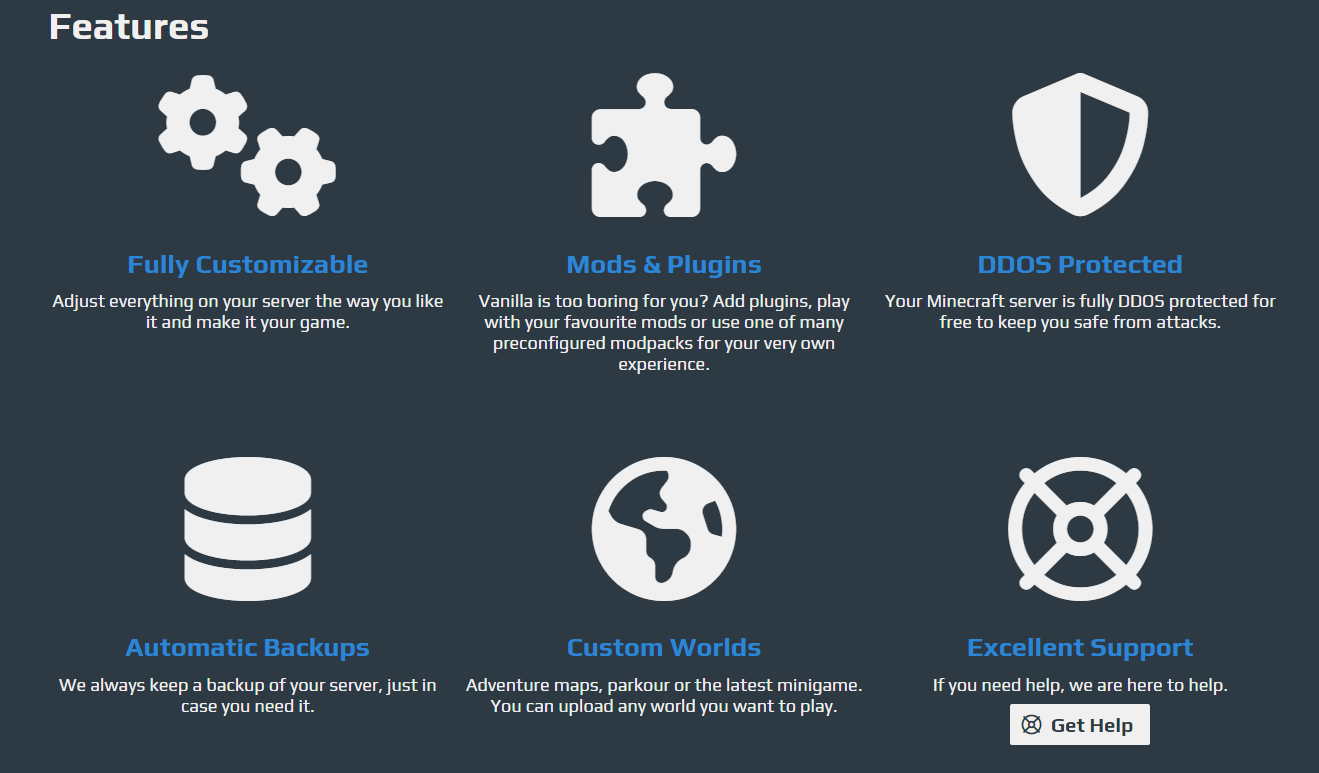 Free Minecraft Resources:
#4. Skynode Review
Established in May 2017, Skynode is one of the most popular premium Minecraft Server Hosting providers globally. Skynode's motto is to provide quality hosting at an affordable rate to everyone out there. 


Besides supporting Java/PC and Bedrock Minecraft editions and other games, Skynode has 9 data centers located worldwide, making them available and providing users with the best smooth services. 
With a robust DDoS system for your server's security and powerful hardware, the plans for Minecraft Java Edition start at $4.99/month and Bedrock edition at the same price! It does not come for free, but it gives appreciative features through its premium packages.
Skynode Best Features
Best Features of Skynode's Minecraft Server Hosting:
Free Minecraft Resources:
What To Look For In Minecraft Server Hosting?
What should you consider before buying a Minecraft Server Hosting? The things that'll not make your game face lag time or any other interruptions:
Processor
Every hosting needs a powerful processor or even more than one to run a website. Hence, it is more important for the processors to be robust and stay intact at all times when it comes to gaming. 
Memory
RAM works fast, and you will need the required memory so that when an input is entered, it doesn't take much time to process the results; otherwise, it would lead to bad performance or, herein, interruptions in your game.
Minecraft Support
Some hosts impart specific support for Minecraft server-related problems and get them solved in no time. Hence, before selecting a plan, check the company's support and make sure that they'll be able to solve your Minecraft-related problems. 
Server Locations
One of the most important things to consider, especially when using it for gaming. While playing a game, you cannot afford high latency (high lag time) because that may lead to losing the game, too, not because of your own fault.
So, make sure the server from the hosting company is not afar so that you get proper network connectivity and smooth running of the server. 
Benefits Of Running Your Own Minecraft Server
Hey, you have come this far with the article and now knowing about owning a server myself sounds a little chaotic. But let us tell you that it has its own pros, want to know them?
Freedom of Choice
You will have the freedom to choose your own mods and plugins. It's your choice or free will to install whatever you like. No one can change that or get it changed without your permission if you own the server. 
Your Rules
As you own the server, you can obviously make rules on how to play and operate on that server without asking anyone, "Your House-Your Rules!"
As an educative teaching tool
It's just not the game you are playing. It's a lot more than that. You can simply learn decision-making and some behavioral aspects while playing the game because it is designed that way. You will have to use your mind as well to win the game!
FAQ's – Best Free Minecraft Server Hosting
Is there free Minecraft server hosting?
Yes, there are many free Minecraft Server hosting. We listed some of them above itself, like Alteron, Scalacube and Server Pro. These are the best free Minecraft server hosting as per reviews and testing we did on them.
Can I get free Minecraft server hosting cracked?
Not really, you can get a cracked Minecraft server from somewhere, but it won't be safe to use or secured, so there is no sense in getting or playing on a cracked Minecraft server. So, always look for a reputable hosting provider who provides the best  Minecraft Server Hosting and purchase one from them.
What is the Free best Minecraft server hosting?
There are many hosting providers that offer good deals to host Minecraft, but very few of them offer free server hosting. One of the best free server hosting for Minecraft is ScalaCube. 
They offer free as well as premium hosting for Minecraft. With a rating of 4.6 out of 5 on Trustpilot, it is safe to say that they are indeed the best hosting provider for Minecraft.
They offer many premium features with their free plans.
Ubuntu 20.04 OS
Full access to MySQL, SSH, and FTP.
You can convert the .jar file to your own
Low ping
Stable connectivity
Free site hosting, forums, and websites
24/7 expert support.
You even get DDoS protection.
Is Minehut Server Hosting is Really Free?
Yes, Minehut is technically free. However, since hosting does not come free for Minehut, you will be required to pay for the server benefit.
Is 1 GB RAM enough for Minecraft server?
So, 1 GB is considered enough if there are only 4 players on the server. But if you read the reviews, you will find out that people experience a lag on 512 MB or 1 GB RAM.
There are many other factors that you need to consider too if you don't want to experience troubles, like, the no. of players, number of plugins, world size on disk, and other such factors. 
It is also possible that your CPU is not performing well. In this case, no matter what the RAM is, you will still experience the lag.
1 GB RAM will be enough if you don't use any plugins or mods and the no. of players is the bare minimum.
Is Aternos Mincraft Hosting safe to use?
Aternos can be considered safe and they do offer a backup service. This way in case the worst happens, you will not lose your Minecraft world. They are highly customizable. 
However, it should be noted that the performance is not up to par. The server is laggy and as it is free, you get very limited options.
How do you create a Minecraft server For Free?
Before anything, ensure that you have an updated version of Java installed. 
Download minecraft_server.jar from Mojang server > save it on desktop > Run the file.
Create a new text document and paste the following 1 cmd /k java ‐Xms1G ‐Xmx1G ‐jar minecraft_server.1.11.jar (Replace minecraft_server.1.11.jar with the version you are using)
Save this document as a batch file (.bat file extension).
Before you launch the server, you have to sign the EULA agreement. To do this, open the eula.txt file and convert "eula=false" to "eula=true"
Once you have agreed to the agreement license, run the .bat file to launch your Minecraft server.
Conclusion
Concluding the article, we listed these providers because they came out to be the best in the lot. It doesn't matter if you are a newbie, already a player, if you have money or not to play Minecraft on a  server because there are some amazing companies out there that help you provide and fulfill all of these things. 
Minecraft has been one of the most famous and most played games of all time, and this is a piece of good news for all of its players because this will help them play in a better way over the servers and not invest any unnecessary money on them. 
These companies have proved their worth and are ready for you all to try them. So, don't wait up and try these providers for a great gaming experience.