---
Whenever a user needs to input data, they need to fill out a form. And to create forms, you need a form plugin in WordPress. As such an essential part of any website, there are plenty of form plugins to choose from.
Forms have only gotten more complex over the years in terms of designs. Many form plugins offer their own form builder system that offers unique elements or design options. Thus, you need to find one that fits the needs of your website.
Today, I have assembled the best form plugins WordPress has to offer in a single list.
What Are Form Plugins?
Form plugins allow you to construct forms. These forms are used to collect information from users.
In general, just about everything you fill out as a visitor is a form.
For example, you might input your email address to sign up for a newsletter. That's a form. Or you may enter your shipping information. That's also a form.
As you probably already realize, every website that exists uses forms in one way or another.
Of course, website design has evolved a lot over the years and many websites look for more robust design options in forms. For example, many businesses want to make sure every form a user fills out has their logo on it.
For this reason, form plugins have also evolved their offerings and now include robust design options developers can take advantage of. And the good news is that they have become quite easy to utilize thanks to drag-and-drop editors.
Here are the 10 best form plugins for WordPress:
1. Contact Form 7
When it comes to form plugins, there's no bigger name than Contact Form 7 in the WordPress space. This plugin has over 5 million active installs, making it one of the most popular plugins in general.
One of the biggest reasons for this is that it provides everything a small business needs for free.
That's right, you get a full-form builder for free. You might expect that the plugin offers less, but it's quite the opposite. Contact Form 7 includes a full suite of support options from documentation to support forums.
In terms of form design, it offers you several different input field variations, simple placement of forms via shortcodes, and a minimal design that's perfect for most small businesses today.
Benefits of Using Contact Form 7
Protect your forms from spam using reCAPTCHA or integrate with other anti-spam tools like Akismet
The minimalist design helps keep the focus on filling out the form
The ability to track users in stealth
All information collected can be sent directly to your database
Include a file submission option in your forms to collect PDFs and images from users
2. WPForms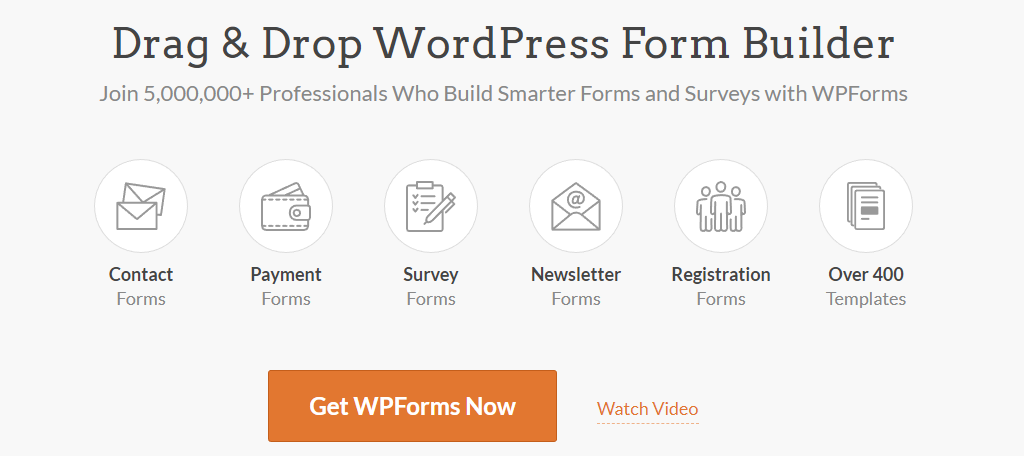 If you are looking for the best form builder in WordPress, it's hard to do better than WPForms. Its drag-and-drop form builder is simply unmatched in terms of usability and design choices in the WordPress space.
With it, designers can make any type of form from newsletter sign-ups to account registrations.
One of the strongest aspects of this plugin is the form builder itself. I cannot stress how easy it is to use. You simply need to click on the element you want to include in your form and drag it into the correct position.
After that, you can customize the default text to match your needs. And you won't need to start from scratch either.
WPForms boasts an offering of over 400 templates to users. In most cases, you can just rework a template to fit your needs.
Benefits of Using WPForms
Offers sites a robust free plugin to start with, and paid plans to grow into
Get instant notifications when a form is filled out
Integrates with popular payment gateways like PayPal and Stripe
Easily customize any buttons that are included in the forms
Create surveys and polls within minutes
3. Elementor Pro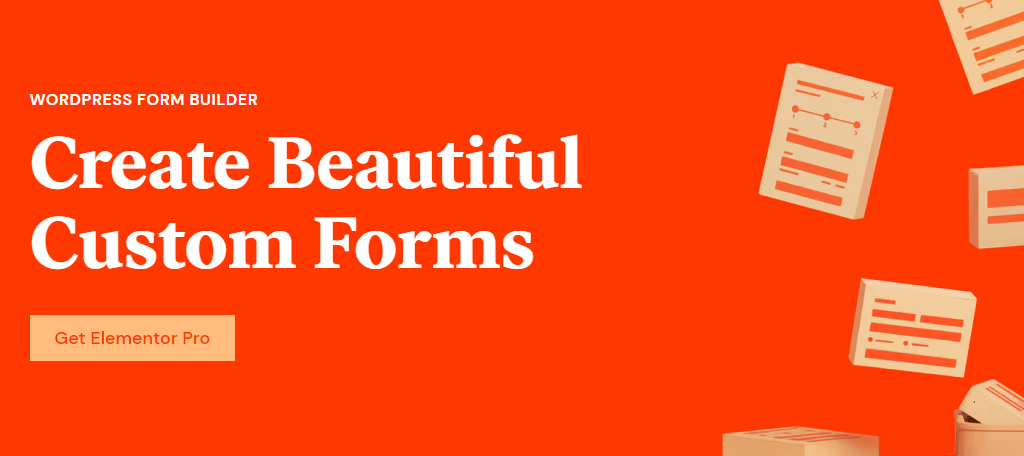 Many people know that if you want to make a stunning website, Elementor is an amazing website-building tool for WordPress. But what many don't realize is that a form builder is included when you purchase Elementor Pro.
Just like the website design, building forms is not only easy, but it's visually stunning with Elementor.
In terms of options, you can create any type of form for any kind of website.
If you can build a website with Elementor, you can create a form for it. And because it's the same tool you used to build the website, the forms can easily match the design of your website.
In terms of usability, building forms is easy as there's no coding involved. You simply pick the fields you want to enter, add them to the form, and customize what they say. After that, the form is ready to go live on any post or page.
Benefits of Using Elementor Pro
The forms tool is just one of many included with Elementor Pro
Utilizes Honeypot and reCAPTCHA to prevent spam submissions on your forms
All of the data your forms collect is stored within your Elementor account
All forms built in Elementor are responsive
Create multistep forms in minutes
4. Typeform
Are you looking to make conversational forms and surveys for your website? If so, you can't go wrong with Typeform. This premium option offers users a robust list of features to build forms.
It also has integration options for most of the popular apps and tools your site may already use.
So, what exactly are conversational forms? Well, they are forms that ask users a question, allow that user to answer the question, and then reply to the answer using conditional logic.
For instance, you may ask the question, how would you rate our service? The user would provide a response like excellent or poor, and then based on that input a response would be generated like, "We are very glad to hear that" or "Sorry to hear that."
This could even lead to another question to keep the visitor engaged. It's quite handy and this plugin excels at it.
Benefits of Using Typeform
Integrates with popular work programs like Slack or Google Sheets
Includes a free plan and premium plans for websites that want unlimited questions and responses
Includes a variety of templates your website can use as a base
Not only can you see the responses you get, but also how many users failed to finish a form
Create lead-generating quizzes that capture the user's attention
5. Gravity Forms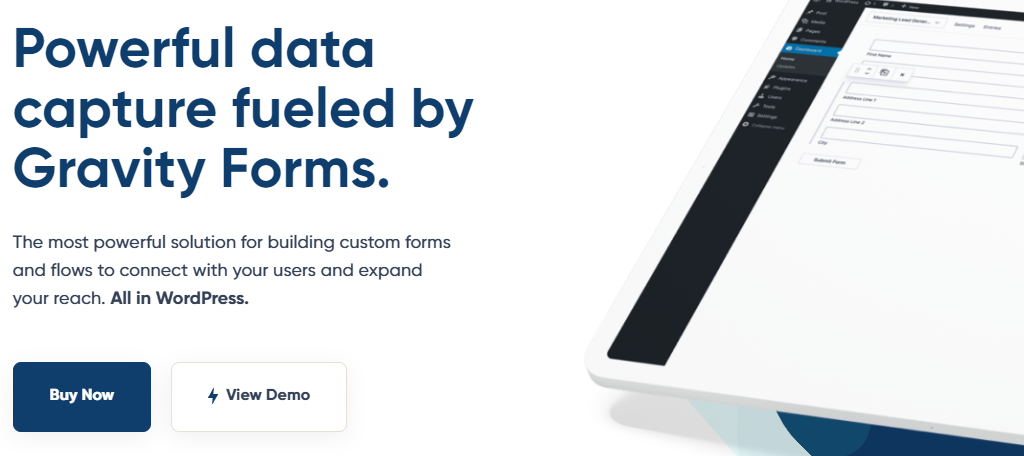 If your looking to build custom forms for your website, Gravity Forms is one of the best solutions you can use. The process has been streamlined thanks to an amazing interface that's perfect for any skill level.
It's all thanks to the visual editor. With it, you can build forms and view them in real time.
You really don't have any limits when it comes to form creation. You can create a single form, or produce a multi-page form that uses a variety of elements from a simple text box to advanced conditional logic.
One of the best aspects of Gravity Forms is the level of support you get. If you do end up needing help, you'll have access to detailed documentation or even priority support depending on the plan you purchase.
Benefits of Using Gravity Forms
You can easily add payment options to any form you create using the same tools you built the form with
Allows user document submissions within forms
You do not have to create your form at once, instead, you can save it and come back later
Get notified via email every time when forms are submitted
Forms can carry out calculations using the data added by users
6. Jetpack Form Block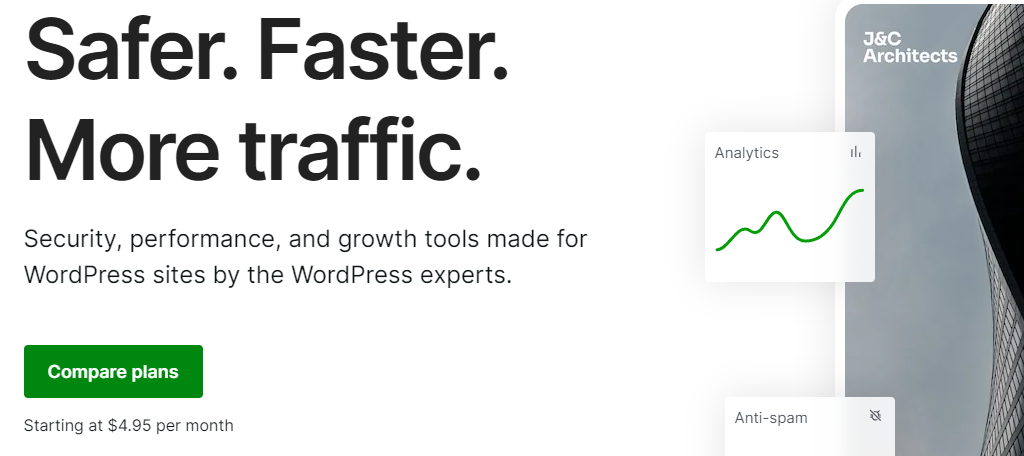 When it comes to the number of features a plugin can offer, there is no competition for Jetpack. And in that long list of features, Jetpack boasts a user-friendly form builder you can use directly in Gutenberg.
Well, you can with the Jetpack Form Block module, and it won't cost you anything to activate.
As the name implies, this free add-on for Jetpack adds the Form block to Gutenberg. Add it to any post or page and you can build using a simple form builder directly in the content you are making.
It's perfect for creating simple forms but does lack more advanced features. So, don't expect too much in terms of cosmetics, but it is completely free and perfect for beginners to use.
Benefits of Using Jetpack Form Block
Receive email notifications when forms are filled out
Everything is done directly in the post or page, so you'll be doing everything from one spot
Jetpack offers multiple integrations options including Akismet to handle spam
Excels at creating simple forms in a short amount of time
Jetpack offers so many other features for your site to take advantage of
7. Ninja Forms Contact Form
Are you looking for a robust, but easy-to-use form plugin for WordPress? If so, the Ninja Forms Contact Form plugin is easily among the best. As one of the best free drag-and-drop form builders, it can build just about anything.
That's just in the free version of the plugin. You can take it to the next level with premium add-ons to add even more options.
Sticking with the free version of the plugin for a moment, it's quite basic. It can create most of the simple forms a website would need without requiring a lot of effort.
For users looking for more advanced options, the premium path is necessary. It provides you with far more in terms of design options and more advanced features.
For example, if you want to use conditional logic, you'll need the conditional logic add-on. It's pretty straightforward and you can pay for what you need.
Benefits of Using Ninja Forms Contact Form
Allow users to pick out the dates for an appointment from forms with the Advanced Datepicker add-on
The Save Progress add-on allows users to save progress and fill out the form later (great for long forms)
Form designs blend into any theme
All forms made with Ninja Forms are responsive
Integrates with most payment gateways and third-party services
8. HappyForms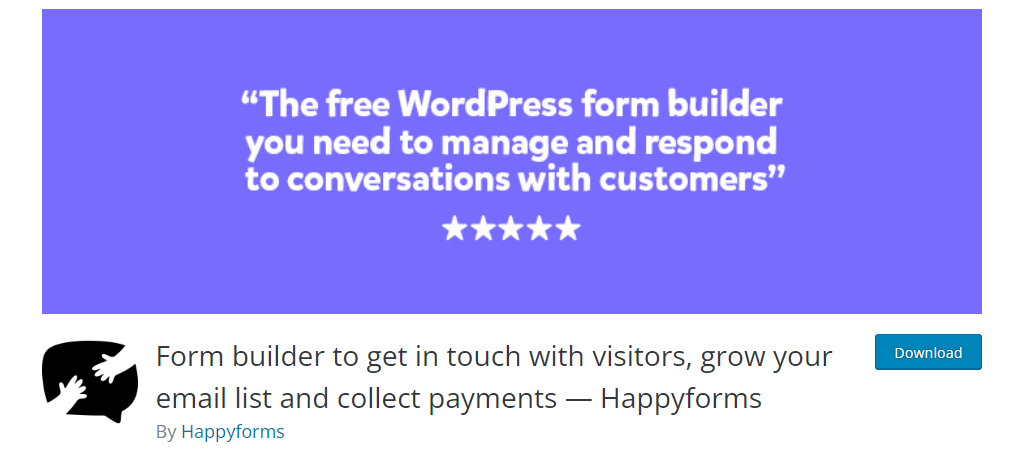 Don't get angry, get HappyForms. This plugin boasts a great form builder that was built using the WordPress UI. This means you probably already know how to use it even if it's your first time installing the plugin.
While the free plan is great, the premium plan is easily the cheapest on this list when compared to similar plans.
You'll be building forms with a drag-and-drop interface, so, HappyForms is quite easy. You'll have access to plenty of fields including options for short-answer responses and even email validation.
There are a lot of features that improve the overall quality of your website. For instance, when a user finishes filling out a form, you can redirect them to a confirmation page, or back to the home page.
Benefits of Using HappyForms
Messages received through HappyForms can be sent directly to the WordPress dashboard
Utilizes Google reCAPTCHA to protect forms from spam bots
Place forms anywhere you want by using shortcodes
Email support is available to answer any question
Create multi-page forms and indicate the number of pages users have left
9. Formidable Forms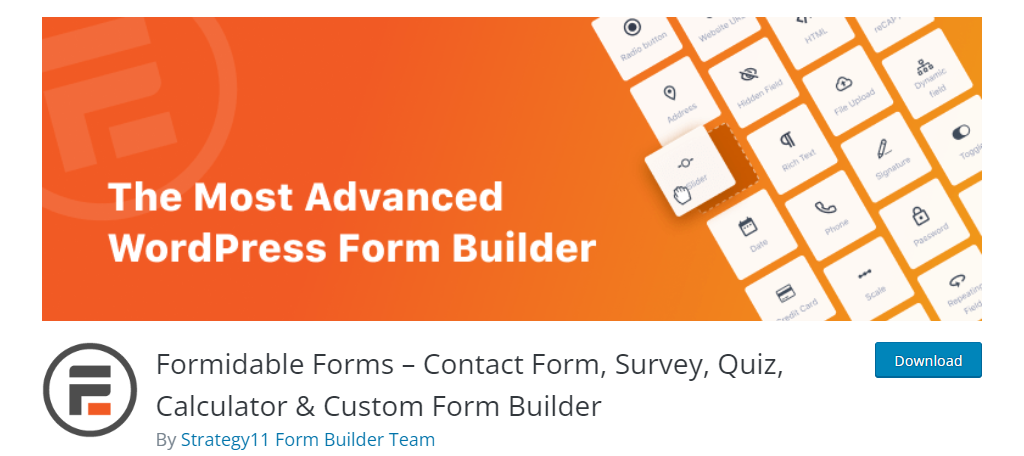 There's no shortage of drag-and-drop from builders, and among the best ones is Formidable Forms. It offers users a wide array of features for building forms, surveys, and even polls for free.
Of course, that's not to say there isn't a premium option for even more features.
One of the most important features of Formidable Forms is that it is built with GDPR consent in mind. You'll be able to add checkboxes to get consent from users about collecting data, and even disable IP tracking to fully comply.
In terms of form building, you really don't have any limitations. Simply choose the element you want to add and drag it to the desired location.
You'll have all the options you want and can even add your own custom ones if needed.
Benefits of Using Formidable Forms
You can inject custom CSS into all of the forms you create to make them fit into any design
Insert equations into fields to make calculations based on user inputs
Access conditional logic to provide responses to users
Premium integration options exist for most major tools like MailChimp or WooCommerce
You can do much more than just forms, such as build directories, event calendars, and more
10. HubSpot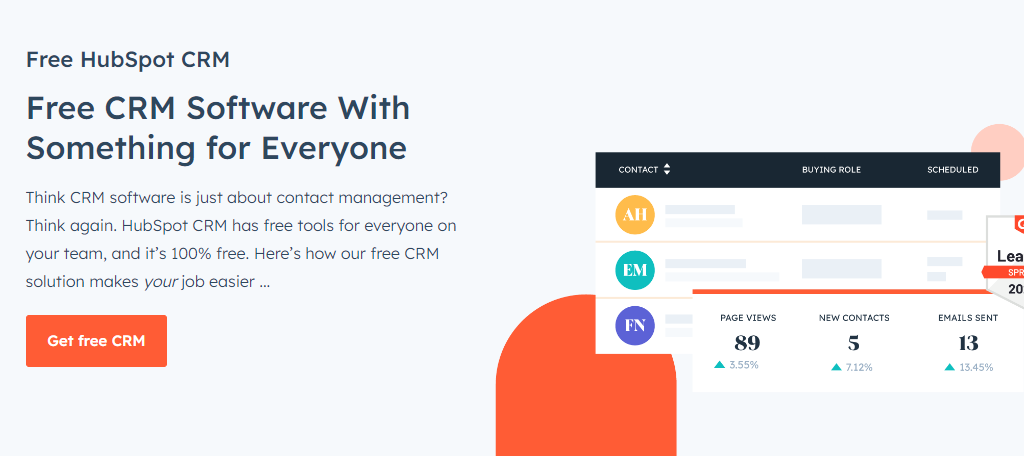 HubSpot CRM offers a comprehensive solution to managing customer relations, and to do this properly you will need to utilize its form builder. It offers everything from opt-ins to analytics and a comprehensive drag-and-drop form builder.
To be fair, since it goes way beyond what a normal form builder offers, it is far more expensive. However, HubSpot is definitely worth it if you use it all.
Similar to all of the other drag-and-drop editors on this list, it's incredibly easy to use. You can drag elements exactly where you want them to appear and customize them to meet the needs of your website.
In terms of designs, the forms are basic but do offer coloring options that allow them to fit into any environment. And as you might expect from a CRM plugin, you can send out automated email confirmations to customers when forms are filled out.
Benefits of Using HubSpot
Analytics are built-in and can help you track form submission rates
Gain access to incredible levels of support that can help you with anything
As one of the most popular CRM solutions for businesses, it is also compatible with most tools and has dedicated integration options
Access to a variety of site templates you can use to build pages
Create forms in under a minute
FAQ
Choosing a form plugin is really only the first step. After that, you must create the forms and figure out how to handle all that information. Naturally, you may still have some lingering questions.
So, here are some of the most asked questions you may have about the forms you build:
Is There A Difference Between A Form and A Contact Form?
Not really.
Many plugins often use the terms form and contact form interchangeably, and as a result, they basically mean the same thing in the WordPress space.
In reality, the real difference is a contact form is a specific form used to contact the website owner.
Obviously, this is still a form, and due to a broad definition, contact forms can be just about anything. For instance, if you fill out a form to sign-up for a newsletter, are you not contacting the website owner to let them know you want the newsletter?
You are, and that kind of logic applies to just about every form. Thus, they are pretty much the same thing in WordPress.
Can I Build Forms Without A Plugin in WordPress?
It is possible to create and add forms with HTML.
WordPress lacks its own form-building tools. Instead, if you don't want to use a plugin, you'll need to create them with code. It is possible to find some sample code online and edit it for your needs, but it won't look as nice as what the plugins above can do.
Although, skilled developers with a great understanding of HTML can get excellent results that rival the above plugins.
Alternatively, it is possible to build the form on a third-party site and embed it on your own. However, this really isn't any different than using a plugin. Not to mention how using a third-party site to embed a form will affect your site's performance.
Thus, since the processes are harder and more time-consuming, it's really worth using a plugin.
How Useful Is Conditional Logic In A Form?
Many of the form plugins on this list have options for conditional logic, which just means they can generate a response or another question based on what the user adds, and it can be incredibly useful.
For example, imagine you are filling out a form for your doctor and you get asked if you are a smoker. If you select No, well that's it. But if you select Yes, you would typically be asked some follow-up questions.
This can help make forms less complicated for the users because it doesn't show the questions that are not related to the users. They just see the entries they need to fill out.
Unfortunately, conditional logic isn't perfect.
In cases where the user inputs text themselves, there can be a lot to be desired. For instance, Imagine that same question and someone wrote Yup instead of Yes. If you didn't include this in the list of acceptable responses, then you might get an error or the wrong response.
That's why many forms limit your response to Yes or No. It just adds a lot of extra work to account for these variations.
Do Form Appearances Really Matter?
In some cases, they definitely do.
Most forms by default utilize a white background and just consist of the fields users need to fill out. And there's nothing wrong with this approach. It gives off a professional vibe that many businesses today utilize.
Yet, that's not to say that businesses don't use more advanced designs.
It's quite common for forms to match the design of the website and even include logos and other background elements to make them stand out.
Is it necessary? No, but the same could be said about design in general.
It really comes down to matching the tone of your website. If you are going for professional, then a simple white form may be just what you need, but if you have a trendy website, then a more colorful option could be needed.
Should I Leave Form Plugin Branding?
One of the main issues with using free plugins or free plans is that they typically include their own branding on your forms.
This can be a harmless message like "Powered by X plugin" and for some websites, it's not a big deal. However, if you run a business, the only branding your forms should contain is your own.
Including any other branding can come off as unprofessional, or make users think they might have been redirected to a scam site. If you have the ability, removing any branding for the form plugin is always recommended.
This logic isn't just limited to forms either. Plenty of WordPress themes add branding that many website developers take the time to remove.
Are Premium Form Plugins Worth It?
Absolutely!
Smaller websites can and should take advantage of free-form builders, but that's not a viable option for larger sites. That's because many of the free tools have limitations in either the number of forms you can make, the number of submissions you can receive, or both.
Not to mention you get far more features by paying for premium add-ons. And you usually get access to better support options that will prioritize your questions over non-premium customers.
Of course, there are many instances where different types of plugins also include forms. In fact, HubSpot is an example of that.
Protect The Data You Collect
The entire point of adding forms to your website is to collect data. Your website can use that data to find shopping patterns, improve customer relations, and much more. That makes the data valuable, especially to hackers.
All of the data you collect needs to be stored securely to protect your customers. If there's one way to end a relationship with a customer, it's telling them their data was stolen from your website.
For this reason, your website needs to have a security plugin installed.
You should also be selective about who gets access to this information. Many websites share the information they collect with third parties for better or worse. Try to ensure they are ethical about the data you give them.
Remember to include what you do with this information in your privacy policy. Failure to do so can result in legal problems.
Build Forms With These Plugins Today
Websites need to collect data to carry out their operations whether it is having users sign-up for a newsletter or fill out their billing address. All of this is done using forms, and these form plugins are sure to meet the needs of any website.
They offer you a great selection of elements you can add to a form, and they're easy enough that anyone can use them. Many of them are also free to use.
That said, even the ones that cost money are well worth the expense.
The good news is that they have become much easier to use over time. In the past, forms were strictly created with HTML, which made it difficult and expensive for businesses to make online forms. These drag-and-drop form builders have made it easy and inexpensive.
Due to the possibilities that they add to every website, having a form plugin installed is crucial for success.
What form plugin is your favorite? What kind of data do you collect with form plugins?